Smaller footprint computers (Even desktops!) seem to be growing in popularity here that past year or two. I've kept an eye on development on the field, due interests in computers in general.
I'm not sure how many people here are inclined to the more deep levels of computing, as such this article will not touch on too much of the nitty gritty, unless I am asked to.
These "Computers" Do not come with a screen, you the end consumer have to buy some additional parts to get the most out of these systems.
The lineup
Apple's Mac Mini

Ooooh, Ahhhh, Apple product!  Believe it or not, the Mac Mini is the poorest of contenders on the lineup.  Being of the oldest on the lineup, and having the largest footprint (Size).  Rumors have it that a new Mac Mini is going to be hitting the market soon!
Stats At a glance
OS
OS X Mavericks
CPU
2.5GHz Core i5-3230M
RAM
4GB DDR3
HHD
500GB
Size
36 x 197 x 197mm
Gigabyte's Brix Pro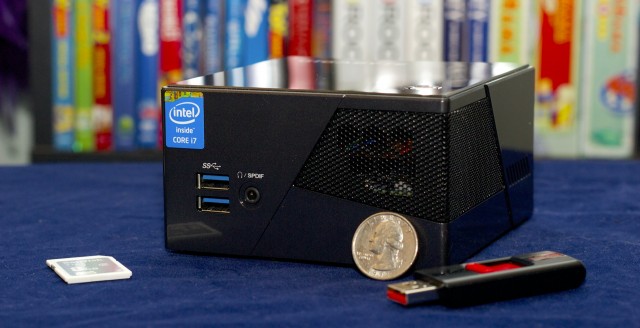 I must admit, from a spec and price standpoint, this is my favorite on the list for higher-end.  Inspired by Intel's NUC, the Brix Pro is a max out on performance, at the cost of a little space in height.
Stats At a glance
OS
Windows 8.1 x64
CPU
3.2GHz Core i7-4770R
RAM
8GB 1600MHz DDR3
HHD
256GB Intel 525 series mSATA SSD
Size
114.3 x 111.8 x 61.0mm
Intel's Edison
The newest on the list!  When I saw this at CES 2014 I was fascinated!  The application they used to show potential not so much an attention grabber, regardless it interested me.  An SD card sized computer would be useful in so many applications. For me, I want to carry one in my wallet!
Stats At a glance
OS
Embedded (Custom)
CPU
400 MHz Core Quark SoC X1000
RAM
Unknown
HHD
Unknown
Size
24 x 32 x 2.1mm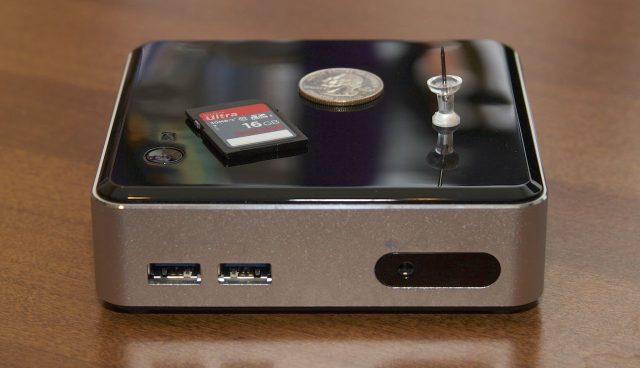 Intel's NUC
The first of Intel's offerings for a slim computer.  This is one of the first large consumer corporations pushing into the market of windows based systems.  The NUC was noted as getting computer manufacture to the idea of the slimmest options.
Stats At a glance
OS
Windows 8.1 x64
CPU
1.3GHz Core i5-4250U
RAM
8GB 1600MHz DDR3
HHD
128GB Crucial M500 mSATA SSD
Size
16.8 x 111.8 x 35.6mm
SolidRun's Cubox
A smaller player in the manufacture of tiny computers, SolidRun's offering the "CuBox" is to serve as a home media center, or as a tiny computational infrastructure. (Think locking doors, shape recognition from camera feed, ect.)  The second smallest option on the list, the CuBox is only recently outclassed in size by Intel's Edison.
Stats At a glance
OS
Freescale kernel
CPU
1GHz Core i.MX6 Dual
RAM
1GB DDR3
HHD
(Requires separate SD card)
Size
55mm x 55mm x 42mm

_______________________________________________________________________________________
СлЫзкo - Slizko in English


Slizko

100 posts!





Posts

: 140



i suppose i would get the mac mini

KarmaChameleon

Head Administrator





Posts

: 3680



basically heres what you have got to do is pick the computer with the best specs

Tacois1

New!





Posts

: 14



sold on Cubox , safety , security , open kernel ... sounds great to me .
_______________________________________________________________________________________

                                                 "My heart is broke , but I have some glue"
                                                                            @-'--,----

LigerMan007

250 posts!





Posts

: 492



KarmaChameleon wrote:...mac mini..
Just due to brand? Or do you have other reasons other than popularity and "Apple" ?
Tacois1 wrote:...pick the computer with the best specs
If you're in the power market.  This field is "Slim" Computer options.  Form-factor is of high importance.  Specs are not necessarily the highest priority here.
LigerMan007 wrote:...Cubox , safety , security , open kernel...
What do you think of the CuBox not having any internal memory?  SD cards (Secure Digital for those who don't know)  Have been found to not be as labeled on the tin.  They have been "Hacked" if that is what you would call it.  
---
Out of Everything listed, Intel's Edison has me most intrigued. Such a small solution. Sure it lacks muscle, but how can you argue with a computer that can fit in your wallet?  I will agree with Mr. LigerMan007 about openness; an open solution needs to be made as well.  Open and secure are two extremely desirable features.

_______________________________________________________________________________________
СлЫзкo - Slizko in English


Slizko

100 posts!





Posts

: 140



---
Permissions in this forum:
You
cannot
reply to topics in this forum